Flowers Bloomed in the Desert
After Los Angeles, the Intrigue crew decided to road trip to Phoenix for our next tour stop. Our venue in Phoenix was simply breathtaking. Framed by the extraordinary desert landmark that is Camelback Mountain, El Chorro will be forever etched into our hearts. This beautiful, historic venue paired with our stunning sunny blooms and over the top installations made this tour stop an event to remember.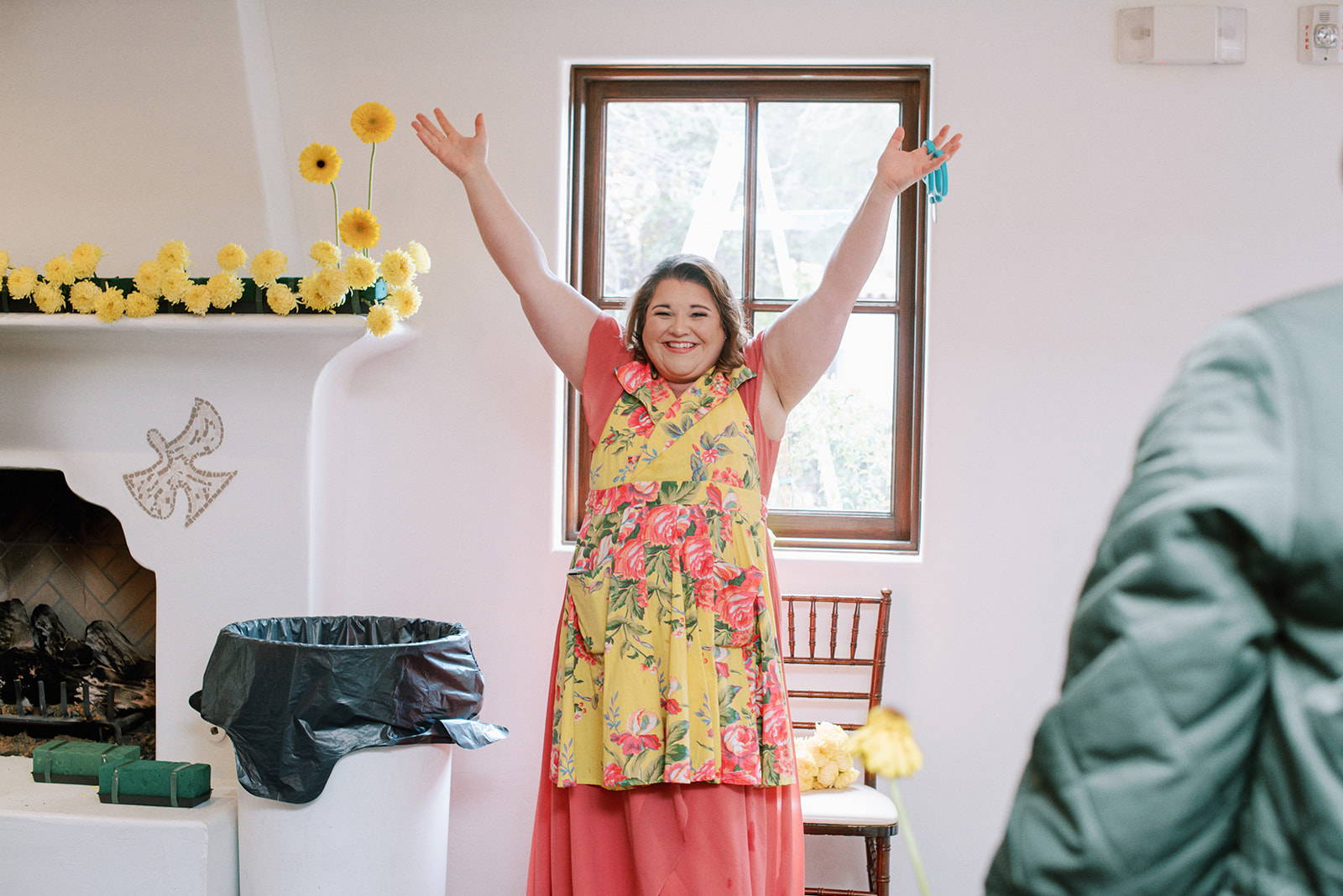 Day 1 - Social Media Masterclass
The first day of our two day event starts with the social media masterclass, where Sarah teaches the techniques she used on social media to grow her floral business into the blooming powerhouse it is today. During this class, the attendees worked in teams to complete their 52 week social media posting plan, because teamwork makes the dream work! As Sarah always say, "Done is better than perfect!"
Fun Fact: Jimi the Tulip from Jetfresh Flowers came to visit and talk all about flowers! We love having special guests on tour. So fun!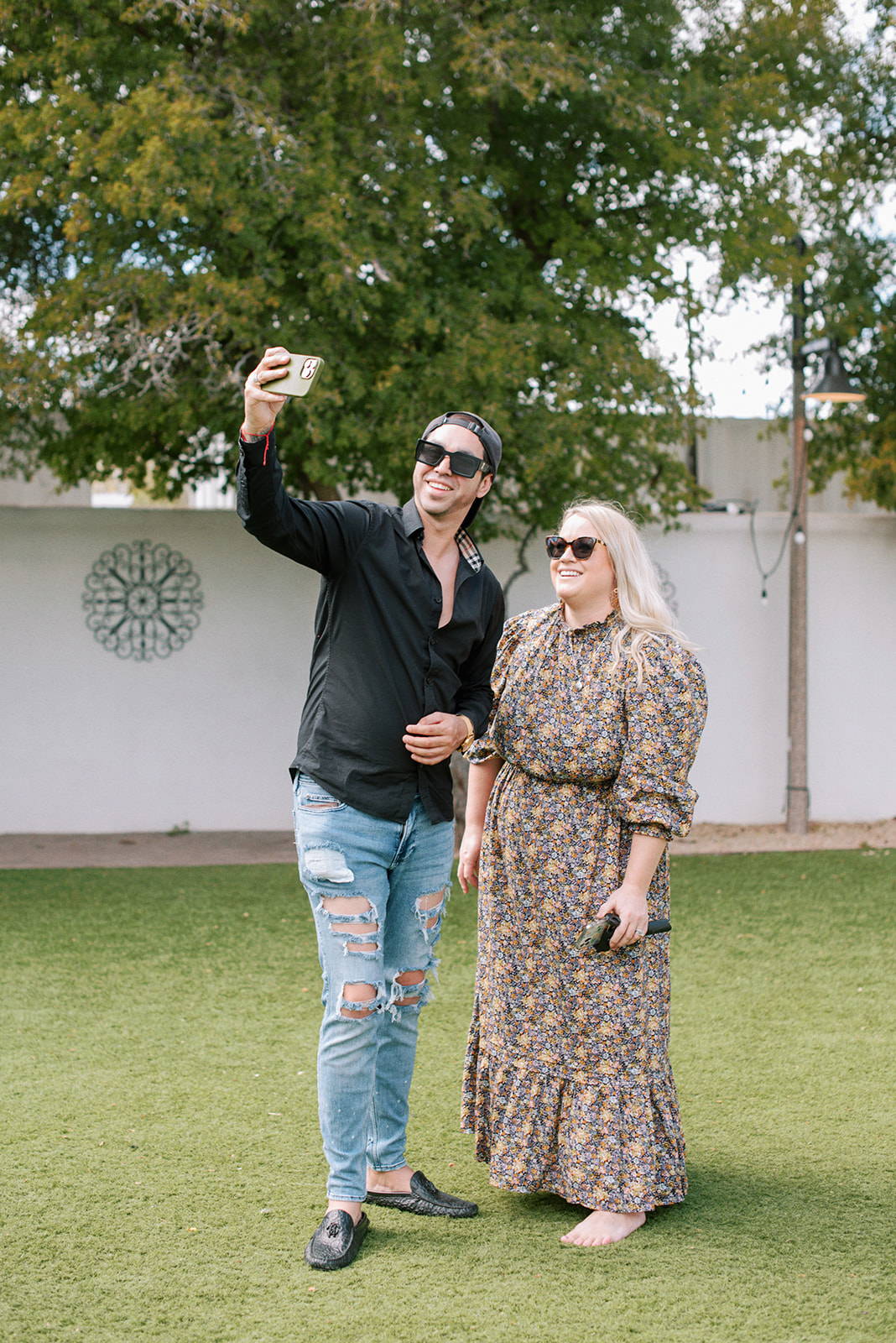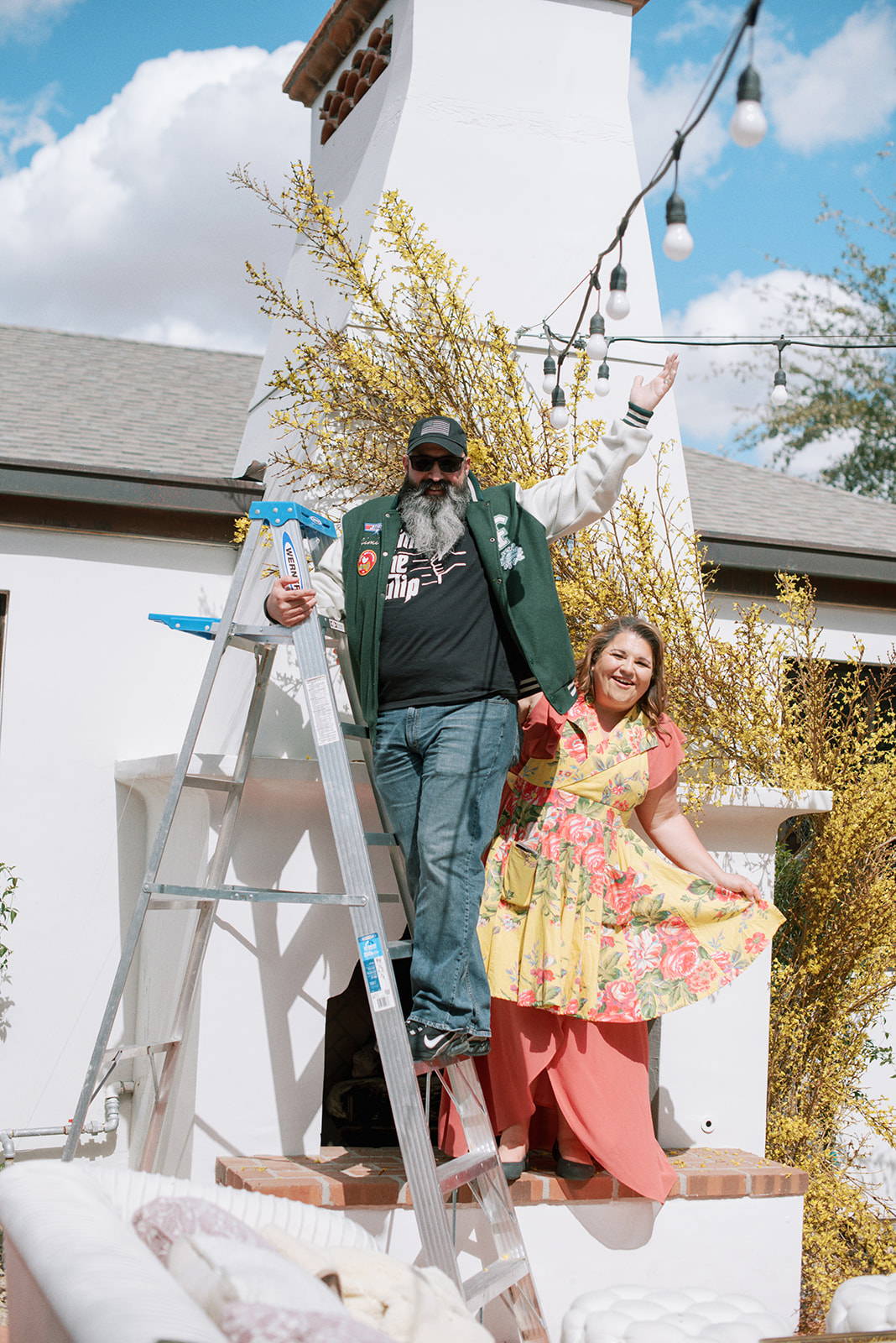 Day 2 - Luxury Floral Masterclass
The sun was shining on day 2 and our flowers matched our sunshiny moods. Lots of bright and happy monochrome yellow blooms were the star of the show for this tour stop. We had loads of unique blooms with fun texture and intersting details to use. That just gave the single color scheme so much depth.
Just because we love them so much, we brought back the Soprano Archway and Vibrato Hangers from Accent Decor as extra installs and stunning moments. And, let's not forget that Poncho the donkey made a guest appearance on site and just added to all the fun vibes.
Fun Fact: Floranthropy took all the extra flowers at the end of the workshop to be repurposed into arrangements for a locla Phoenix nursing home. We love when flowers keep on giving!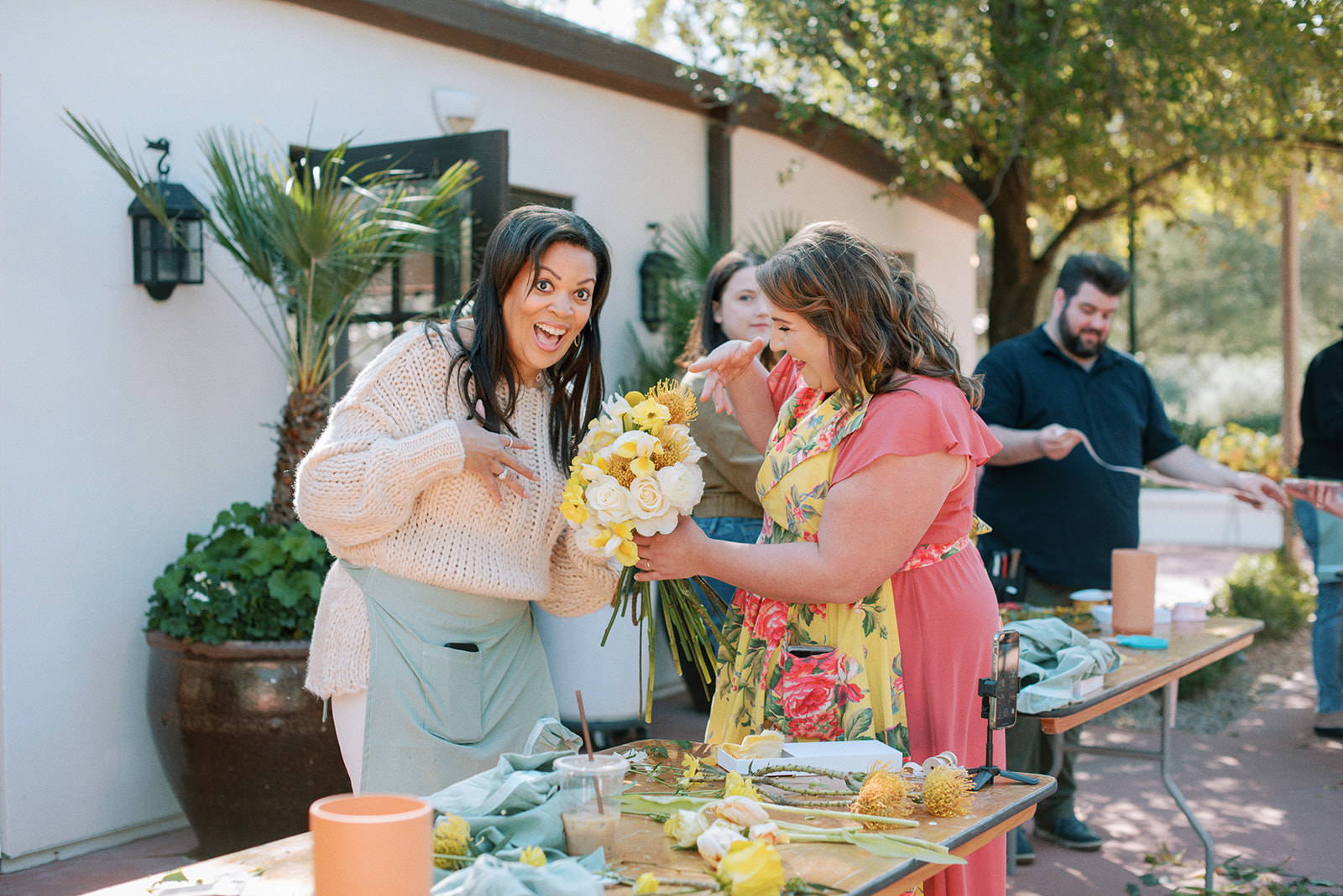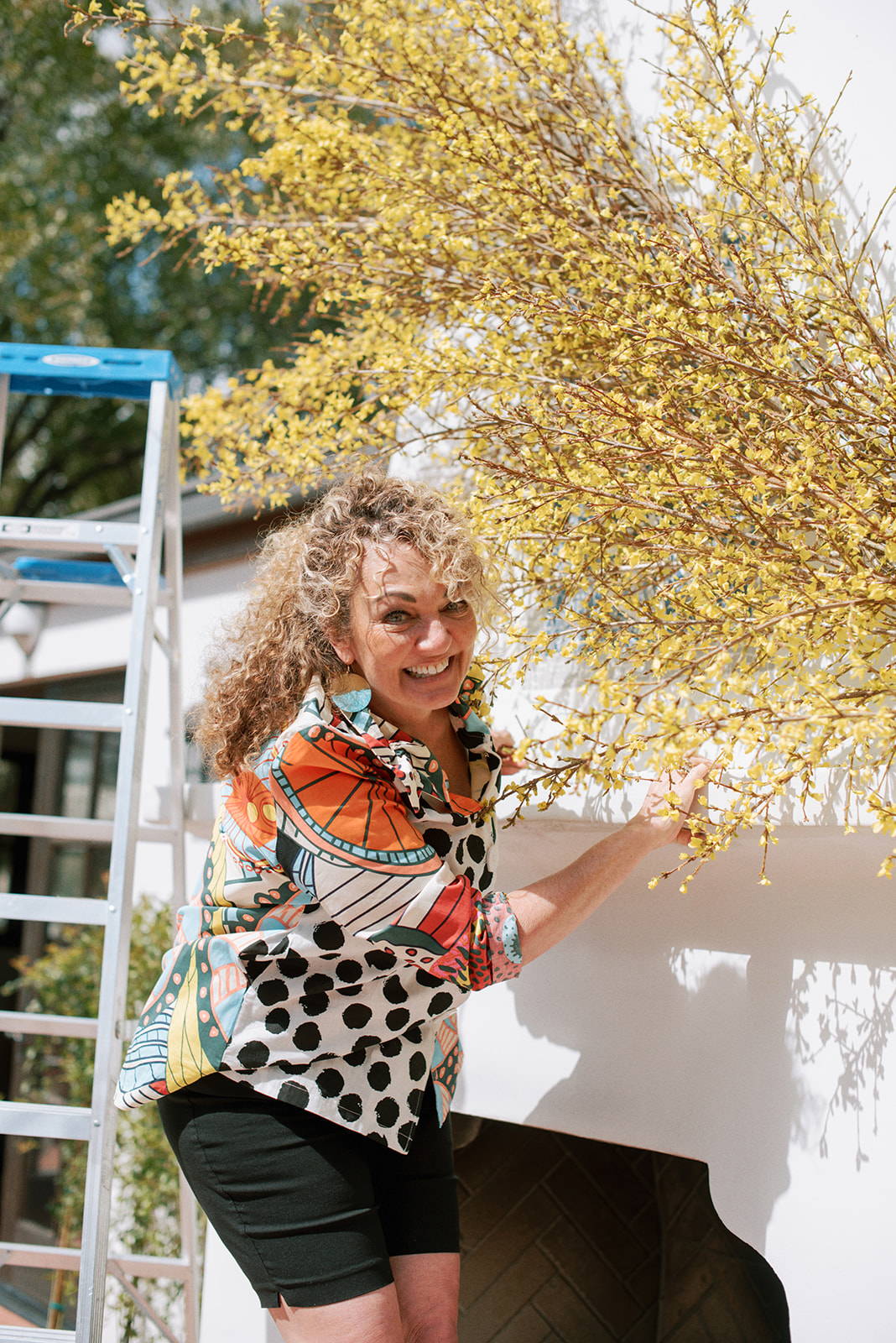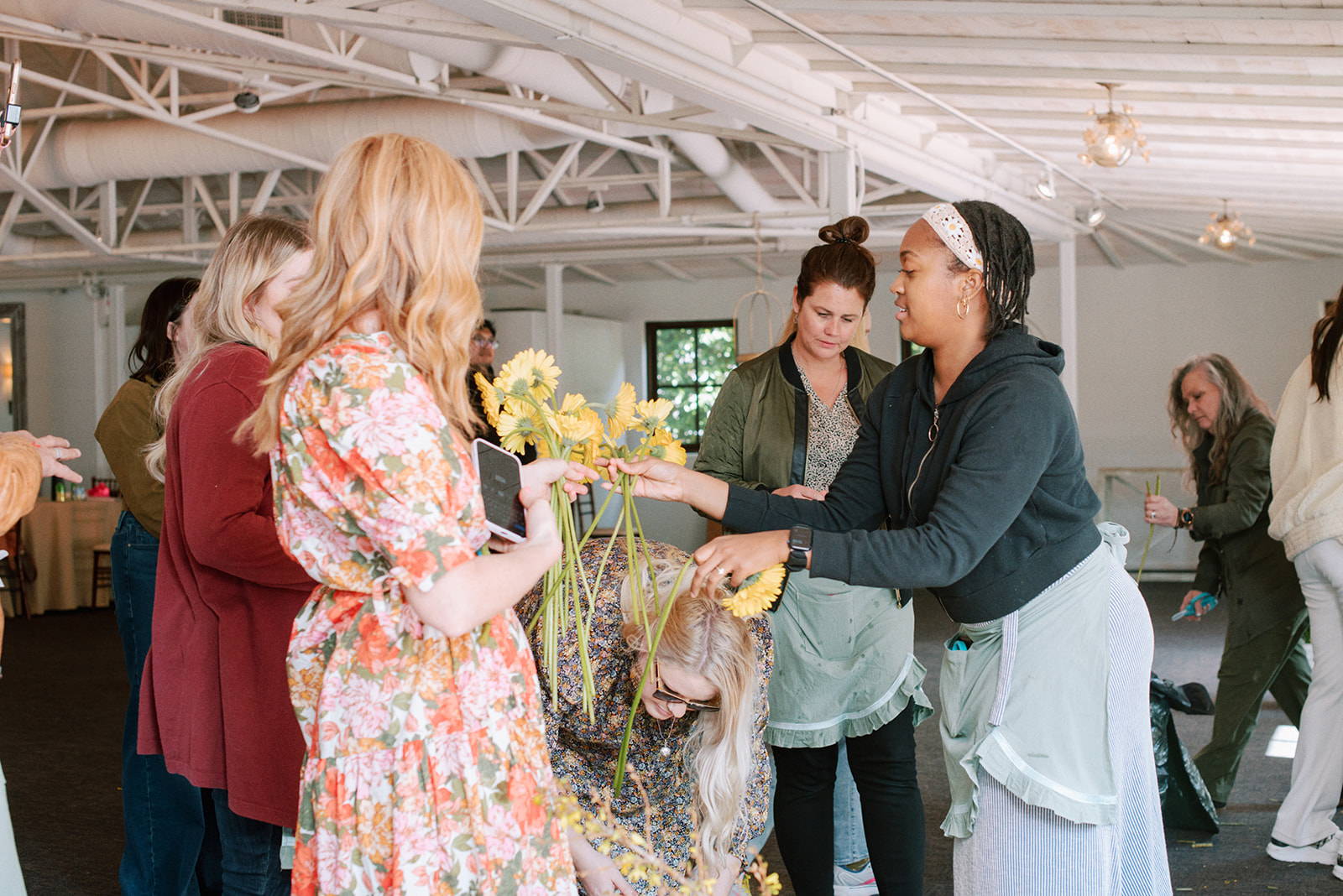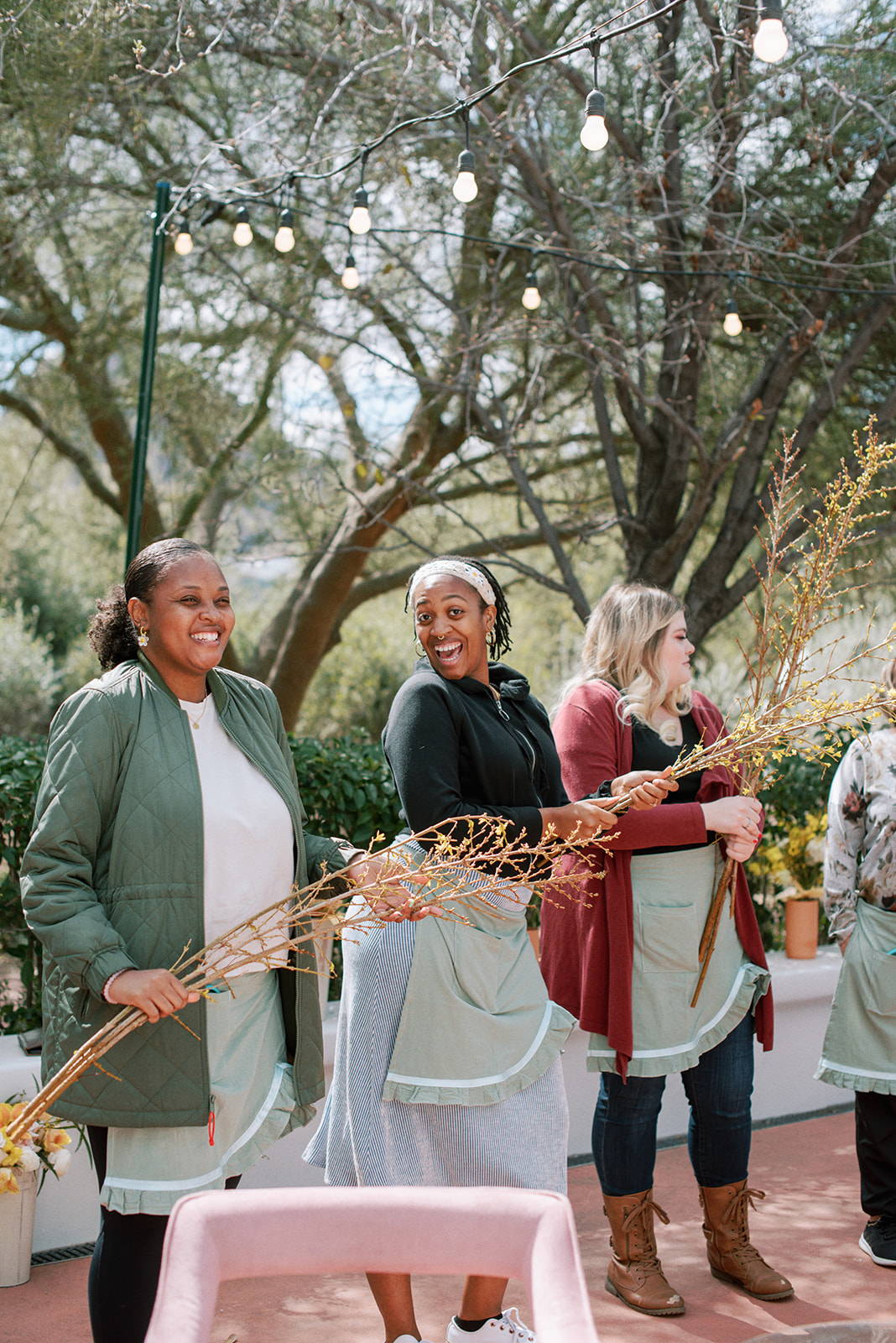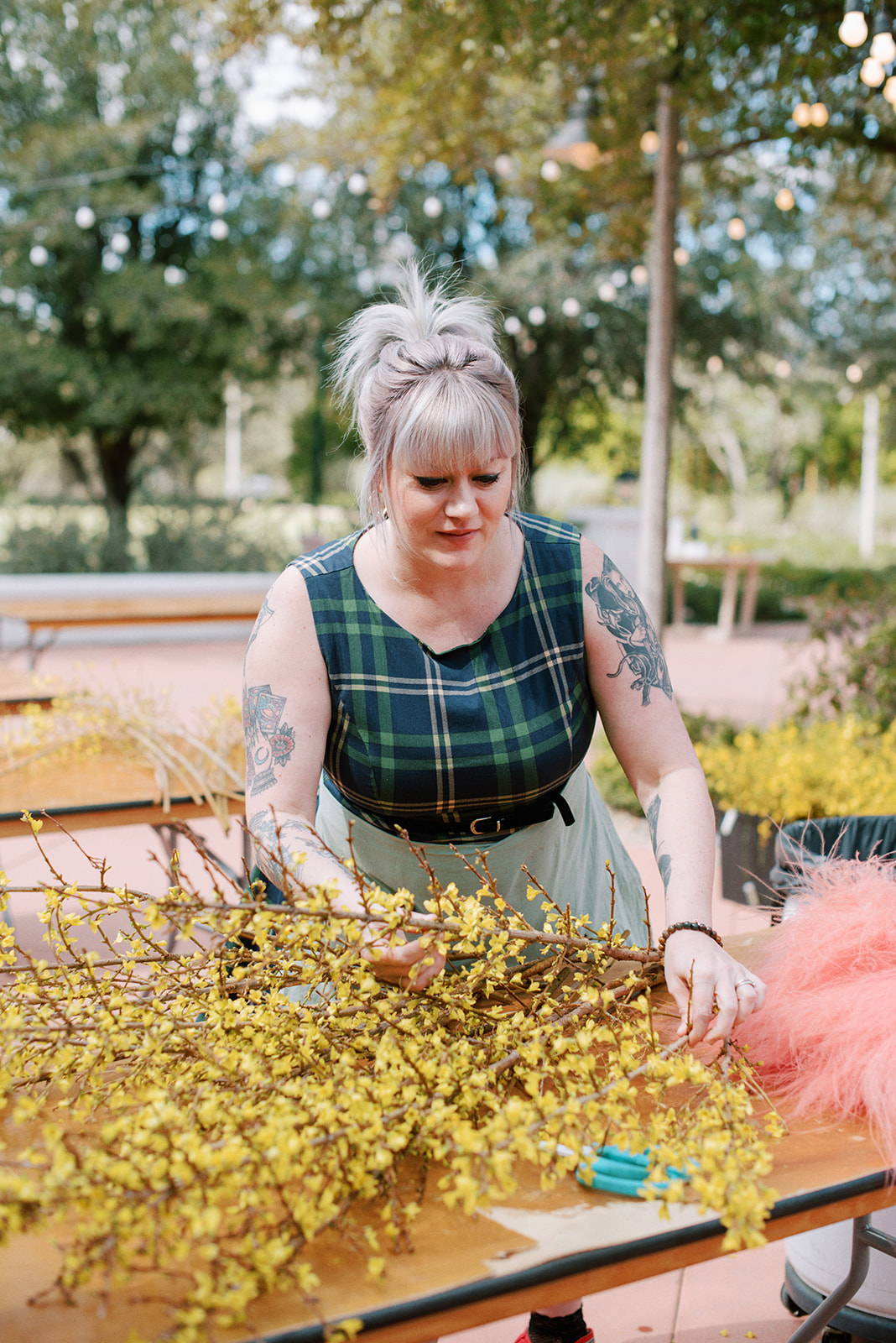 After day 2 wrapped, the Styled Shoots Across America photographers came in to photograph all of the beautiful florals and decor, along with the help of stunning models. Attendees of the workshops get full access to all professional photos once galleries are completed, which means hands were filled with flowers, minds with inspiration, and portfolios with photos!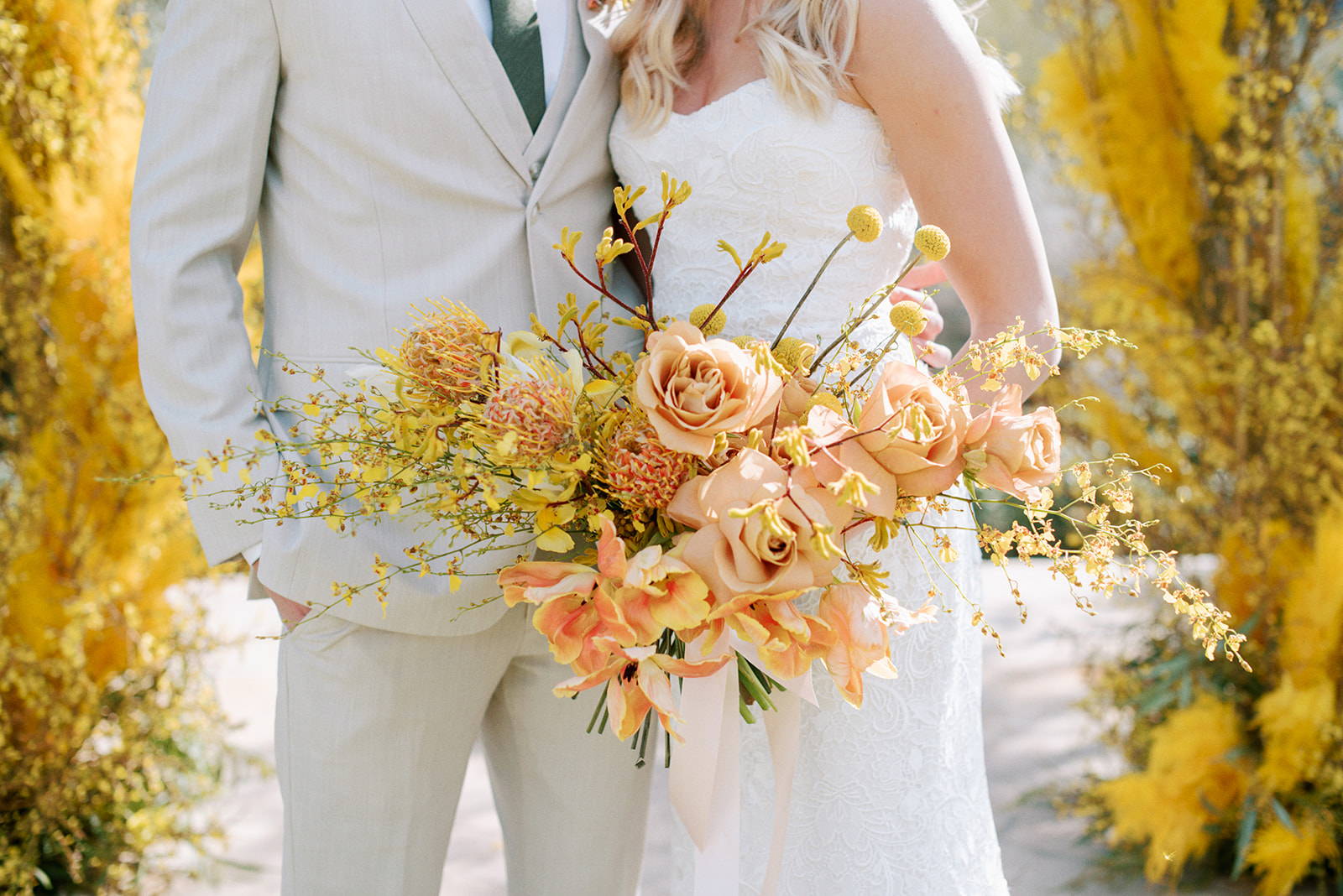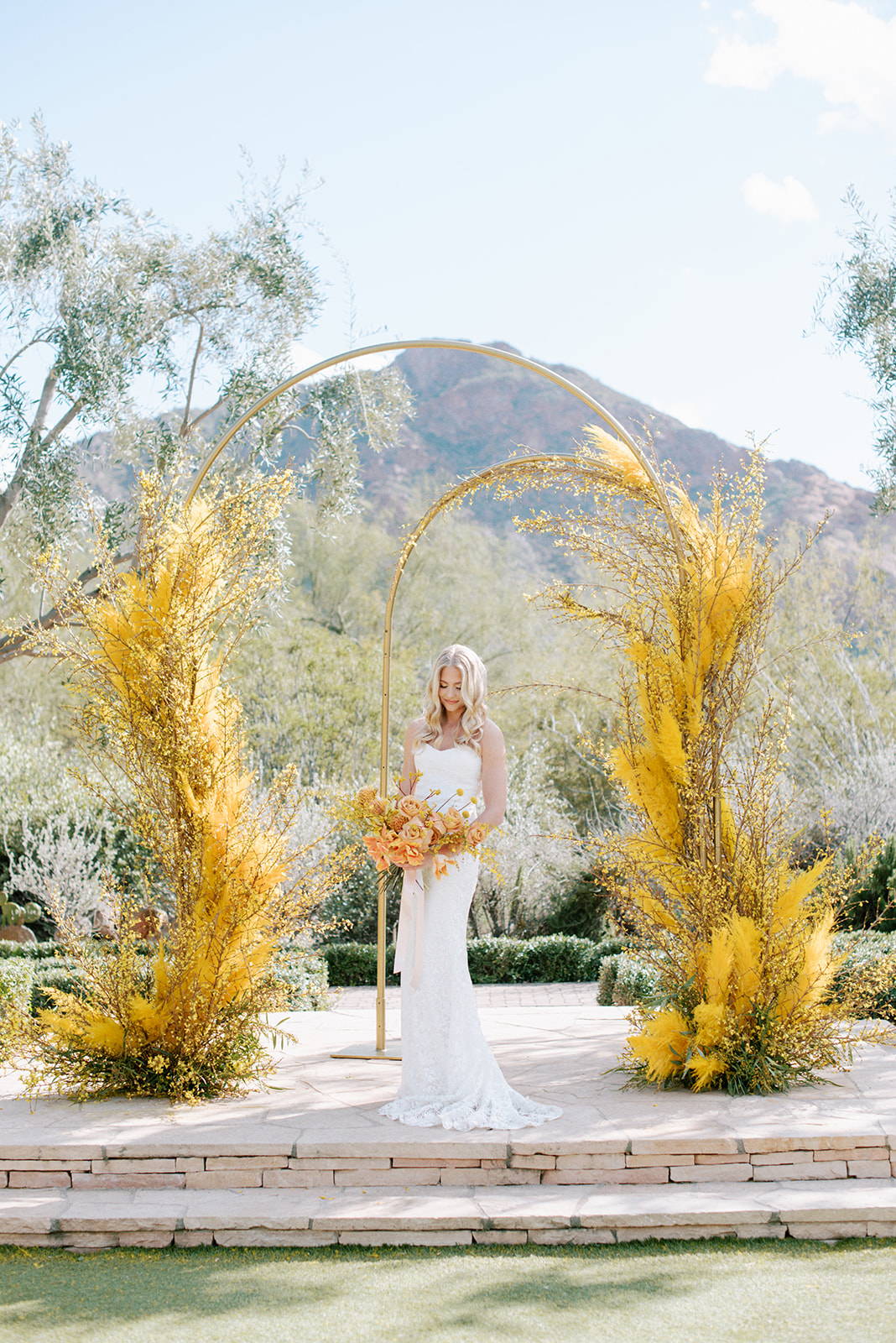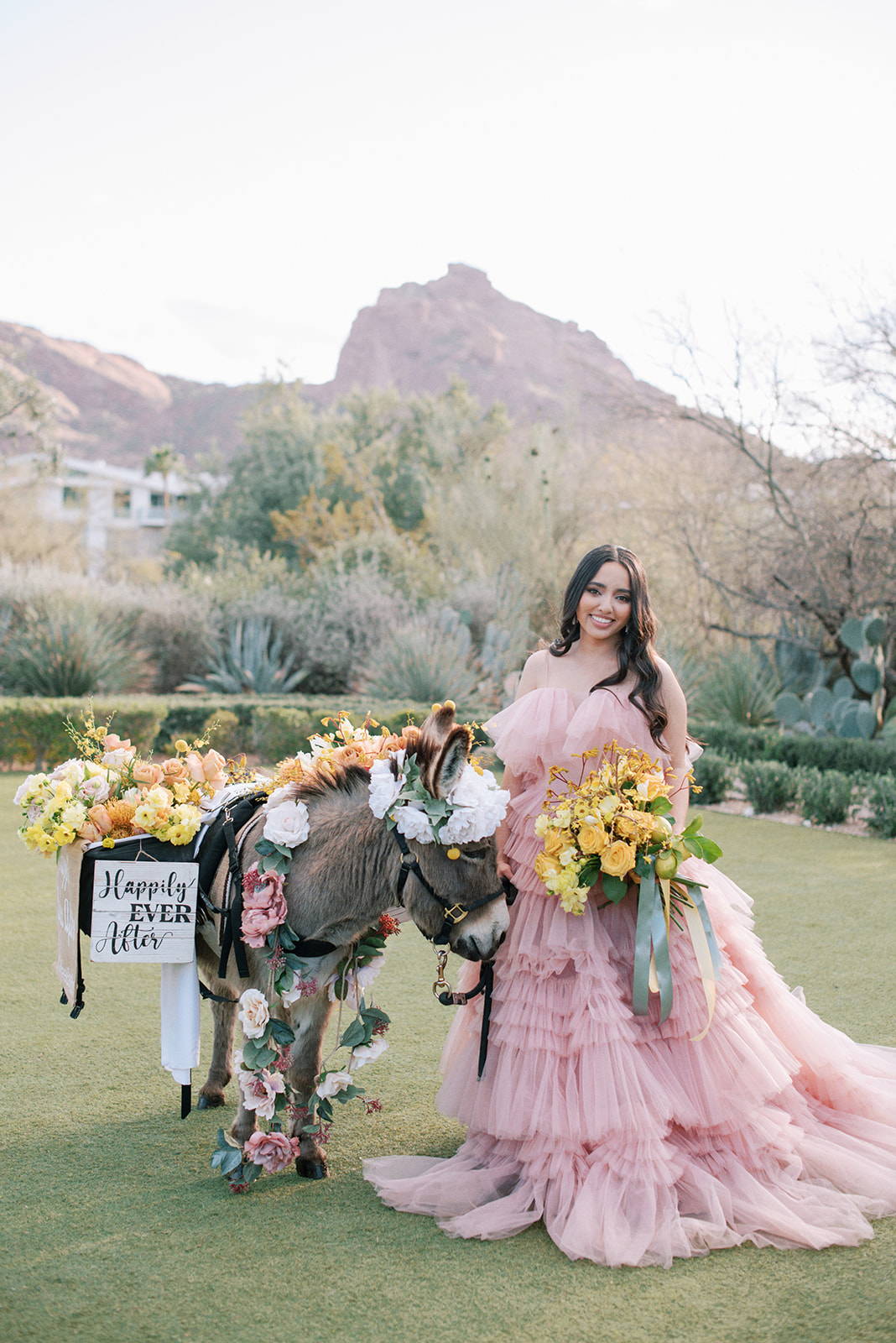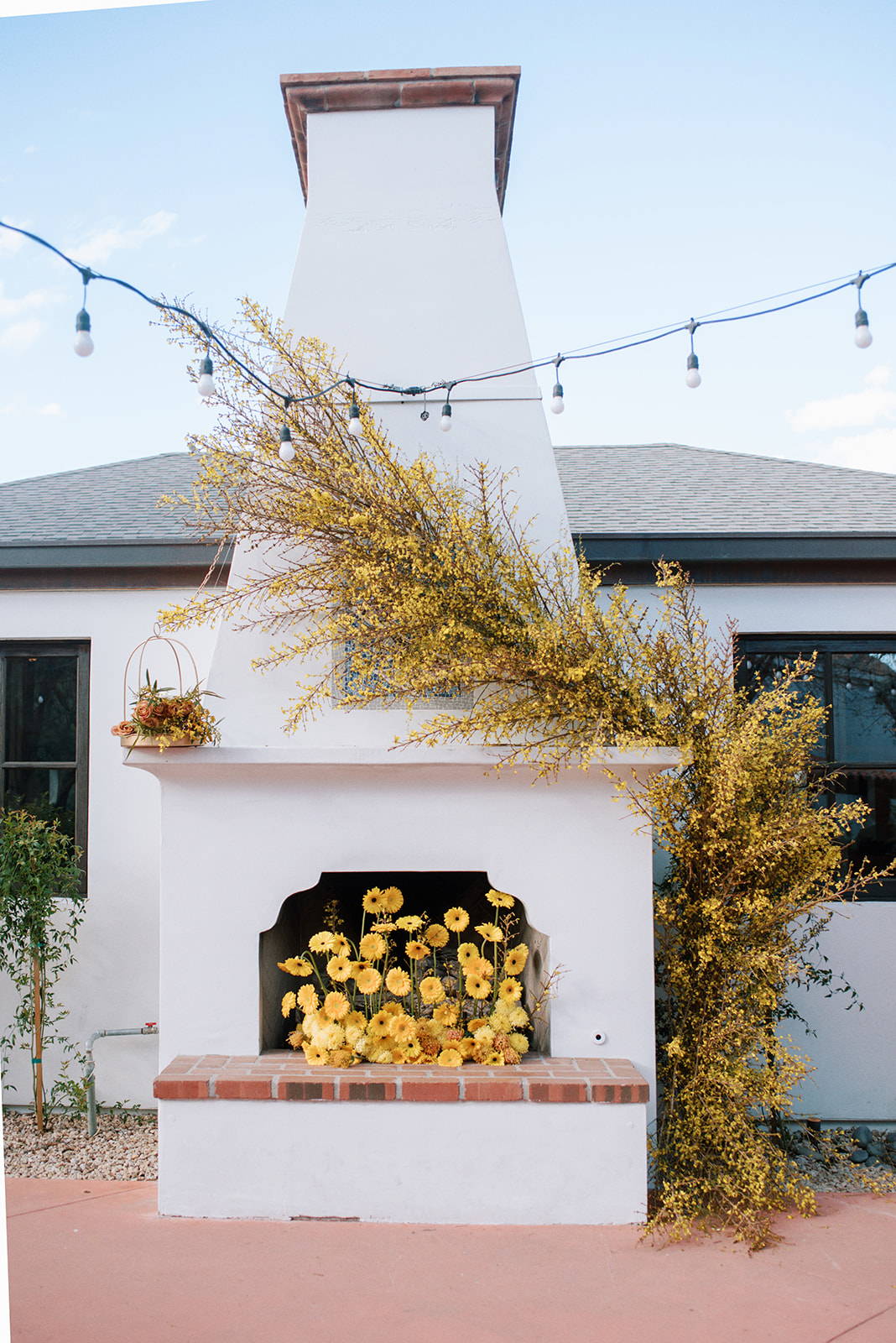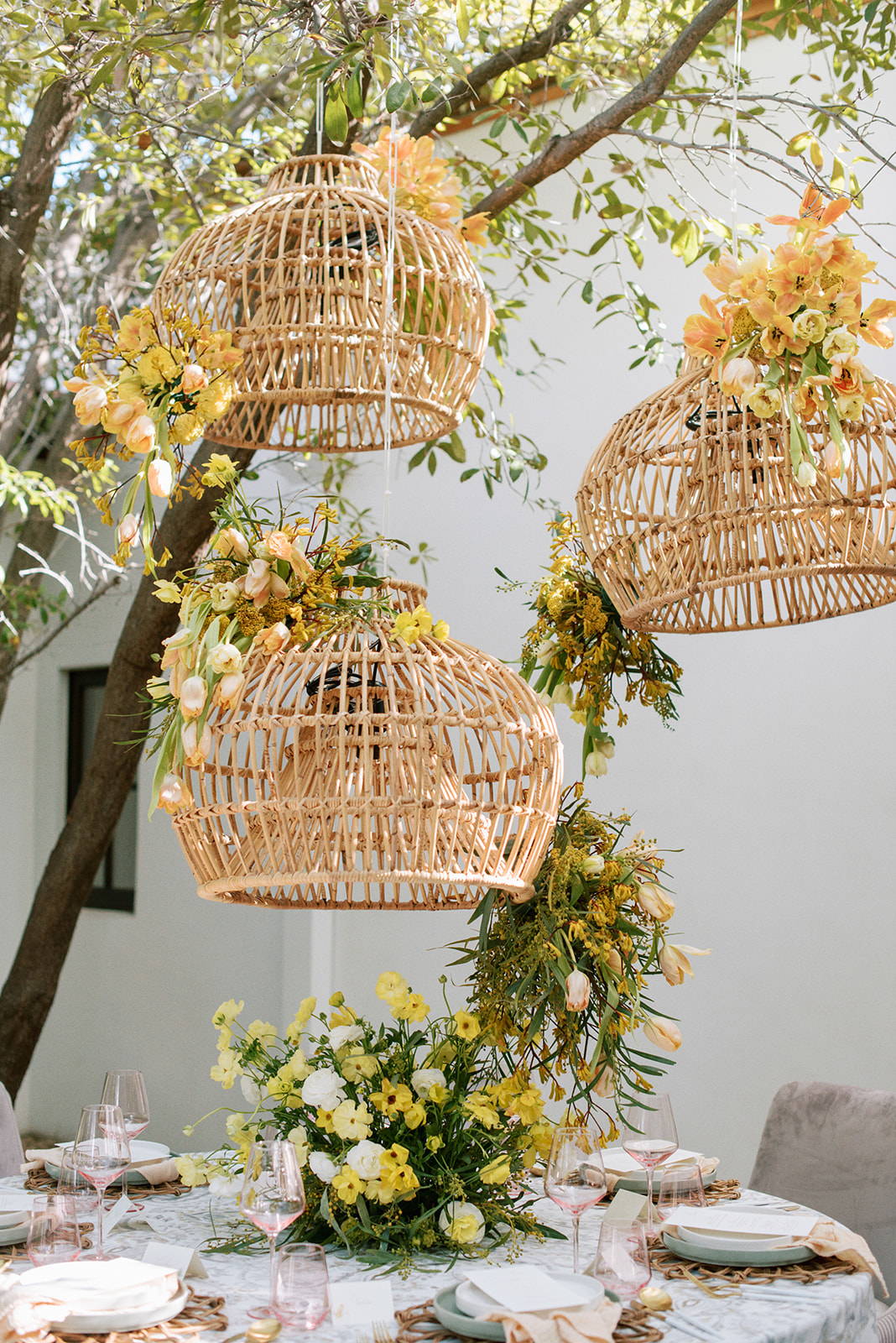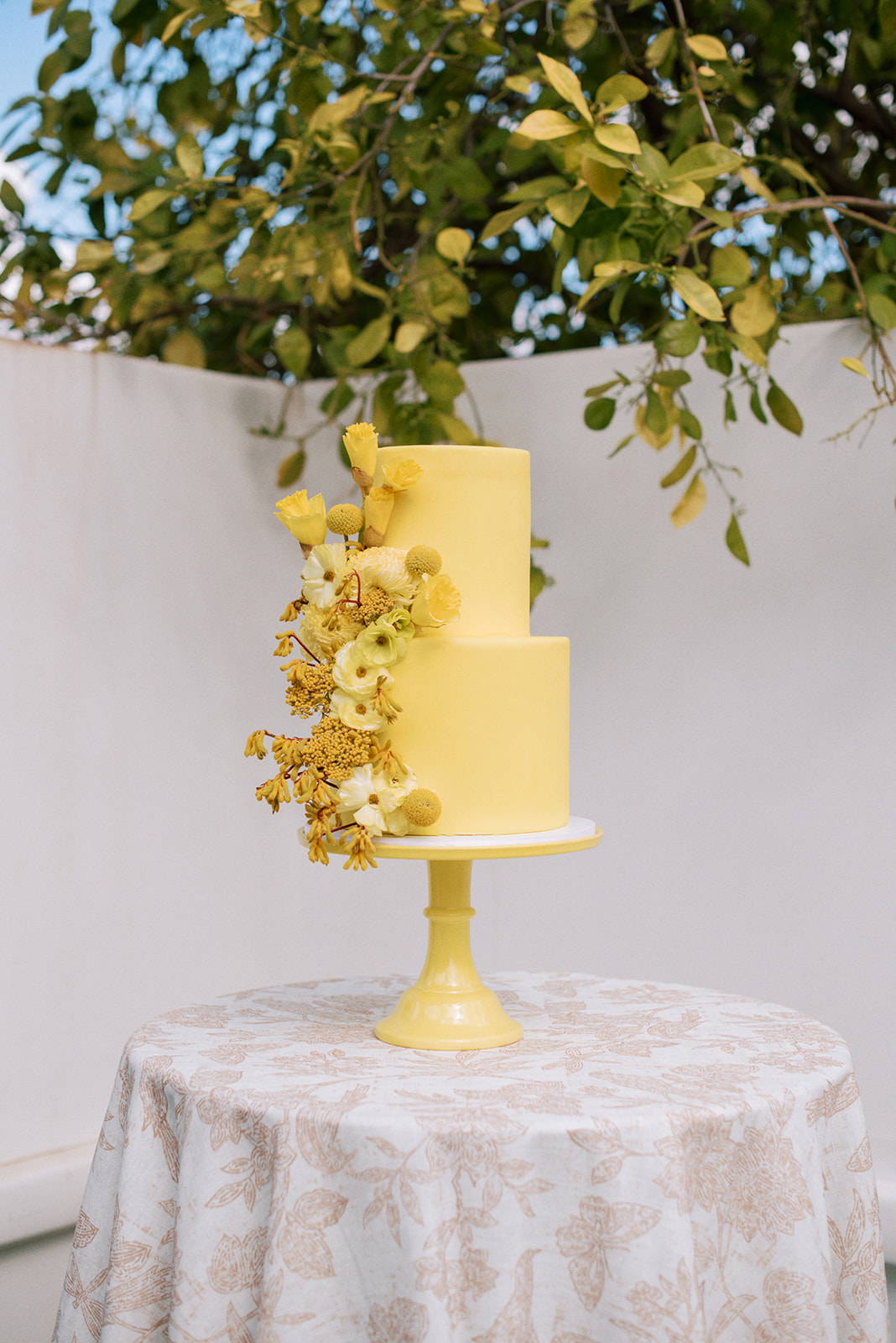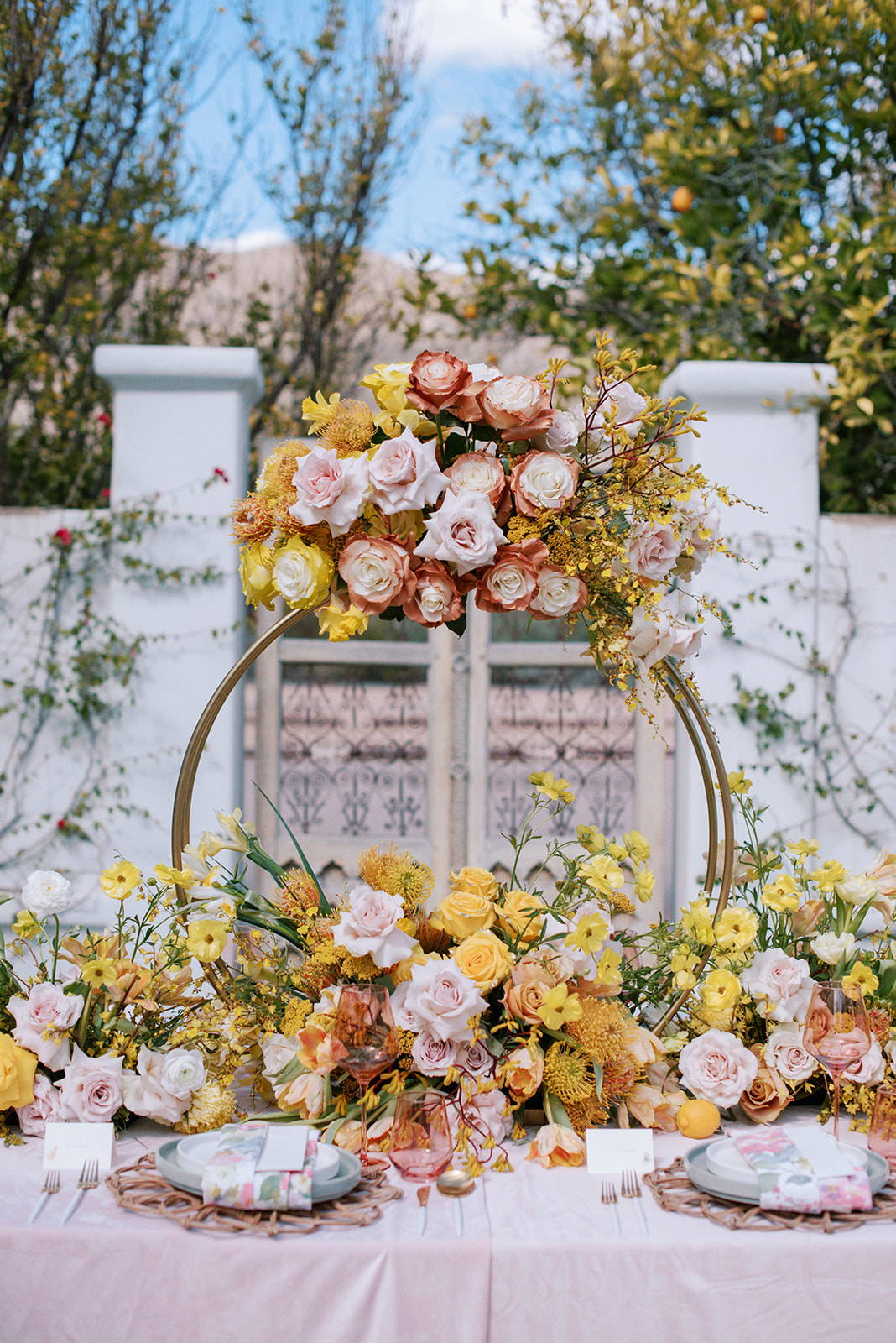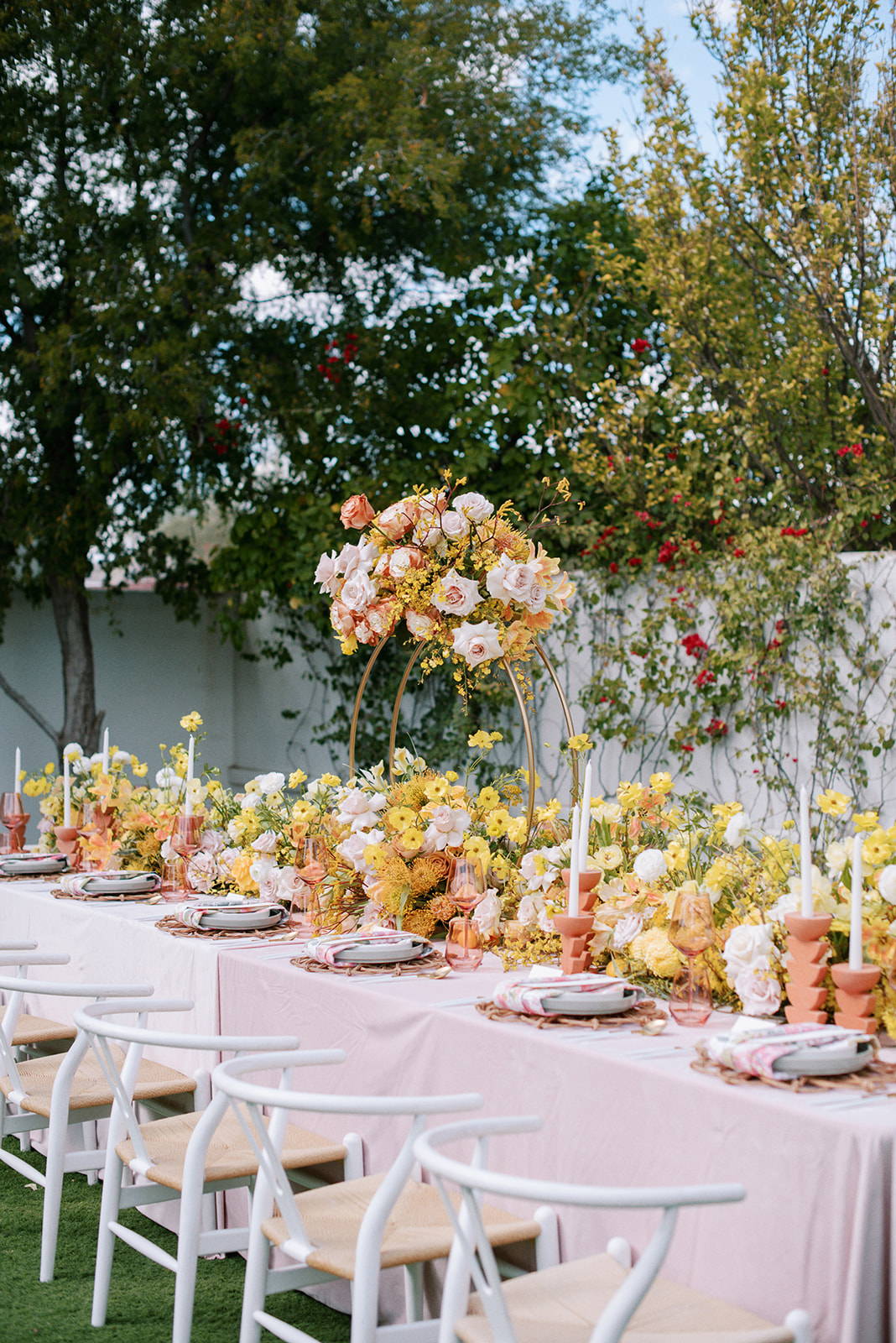 Thanks to Anh from Films by Anh Vo for this beautiful video capturing all the day 2 fun.
---
Shopping Lists & Pricing
If you are wondering what flowers and products we used to create the large centerpieces at the Phoenix tour stop, we're here to spill all the details.
Flowers: All flowers came directly from our wholesaler and flower friends over at Jetfresh Flowers.
Floral Software: We determined our recipes, flower counts, and pricing using Curate software. Full recipe coming soon on the blog post.
Containers/Hardgoods: Accent Decor provided the terrecotta vases, arch and hanging baskets and more! You can see their new line of wedding products here.
Everyone always asks how much it costs to create the large scale floral projects. We will be sharing the cost of the centerpieces for this tablespace very soon. Visit Curate for the full recipe link COMING SOON on the blog post here.
---
Creative Partners:
Photos featured in this blog post are provided by: Leslie Joy Photography
Host: @styledshootsacrossamerica | Concept & Planning: @heatherbengeofficial @alexiawoolumssaa | Assistant: @sugarplum.coutureevents | Venue: @elchorroweddings | Florist: @intrigue_designs Student Team | Wholesale Florist: @jetfreshflowers | Supplies: @oasisfloralproductsnamerica | Vessels & Candles: @accentdecorinc | Floral Software: @curate | Hair and Makeup: @lebeigebeauty | Stationery: @victoriayorkdesign | Cake: @abakeshop | Rentals: @primdesigncompany | Tabletop Rentals: @theconfettistudio | Linens: @nuagedesignsinc | Gown Salon: @verawangbride | Colorful Gown: @styled.gowns | Men's Wear: @stitchandtie | Earrings: @nightanddayestudio | Veil: @bellebotanicalcreations | Painted Champagne Bottle: @cammiecutterdesigns | Beer Burro: @cavecreekbeerburro | Ring Boxes: @lovelyringboxes | Styling Mats: @theflatlaysstyler | Models: @britleyf @brit_fleming20 @kierra_jasminee @zay_hampton @lydia__costello | #styledshootsacrossamerica #intrigueacrossamerica
---
Special thanks to our Intrigue Across America tour sponsors: