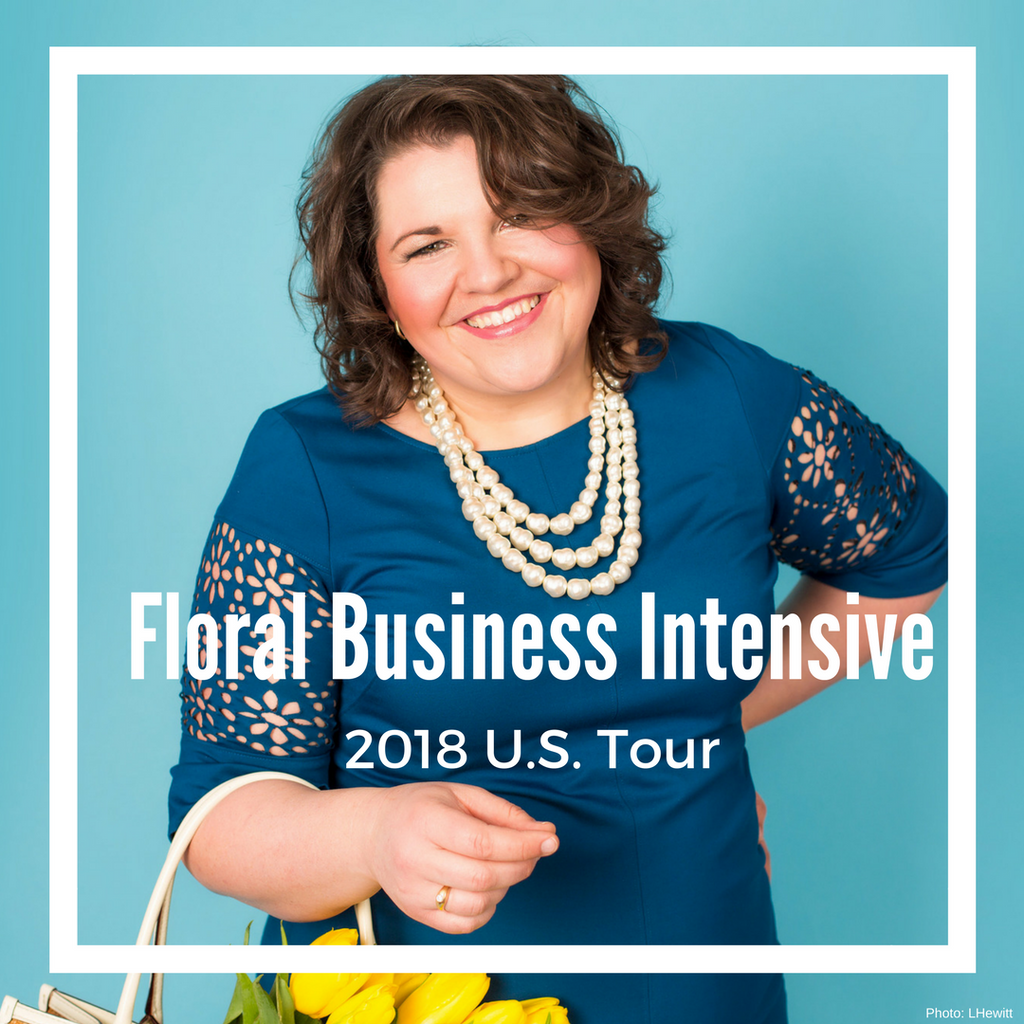 Business Intensive - VIRTUAL
COURSE NO LONGER AVAILABLE
ONLINE ONLY, recorded so you can watch again and again!
Did you miss the "Intrigue Across America" Tour? Do you want to learn all of these business changing techniques that I taught this year on this EPIC national tour without having to travel?  In January I am teaching this class LIVE and On-Line. No need to travel or even change out of your yoga pants. The best way to start off the year is to get your business focused and what better way to do this than through a full day of business focused education.
This is the SAME class I have been teaching this year on the tour with RAVE REVIEWS! 
FEE: $300
(scroll down for a complete listing of class details)
VIRTUAL CLASS DETAILS:
This workshop is in response to those of you looking for business education that focuses specifically on our unique wedding floral industry.  We are creatives, however, what we experience in the course of running our businesses is much different than the average creative.  We work with a perishable product in a fast paced environment that requires organization, patience and a lot more than just luck. If you are looking to start your floral business or feel that you started without a firm structure this event is for you.  This is a floral workshop, but, we will not be touching flowers.  This is all about business with focus on processes and procedures to help maximize profitability and ease the stress through organization. We are in this business because we love it and in order to stay in business we need to generate income that excites us.
 A comfortable income and emotional state is not only attainable, but, expected in this line of work. This industry is far too difficult to settle for anything less. I also know that if you are like I was when I started, funding is tight in the beginning and although you want to dream big it is hard to come up with big dollars to invest in education.  So, I have trimmed out all the fluff and created an event that truly is business focused with the intent of propelling your business to the next financial level.  In doing so I have condensed out 2 day class to maximize our time together.
When developing this class I thought of the struggles that plagued my early years as a Wedding Florist. I thought of the money I wasted advertising in the wrong places. I thought of the challenge that came with pricing and the painful memories of all those weddings that I under-priced and lost money on. I thought of the overwhelming anxiety that overtook me every week as I struggled to find staff for my weddings. I remembered the loneliness I felt not knowing who to turn to for support and having to figure out my business strategy all alone.  There was no one around me that was open to helping. I was on my own and it was hard. I want to help with these struggles and relieve the stress that running your floral business has created. I want you and your business to be running so smoothly you can spend your time doing what you LOVE! Doing what you want to be doing creating beautiful floral designs. I want to alleviate your struggle with running a financially and emotionally successful business.  You are not ALONE!
Session 
Setting Policies, Procedures and Workflow
Ordering: Streamlining your flower ordering process to assure proper quantities and delivery schedules eliminating last minute trips to the wholesaler and improving quality
Hardgoods: Creating "pull sheets" and schedules to eliminate over ordering and costly rush order
Workflow: Developing a weekly system to keep your business moving, easing stress and the need to micromanage 
Organization: Tips and Tricks to keep your work-space organized and make the most of your time on your design floor
Recipe Building: Increase profitability through organized recipes and thought out designs
Profitability: Customizing a price structure to fit your business and project you for success (not everyone is priced the same)
Cash Forecasting: Assuring your can sustain your business year round
Staffing: Hiring, retaining and contracting seasonal/freelance help
Success: Identifying what success means to you and positioning your direction toward your vision. (Is your success financial freedom, more time with family, being seen as a leader? Whatever your success vision is we will help you identify it and help you work to achieve it)
Contracts: Customizing your documents to reflect your brand and specific needs to protect your business
Branding: Identifying your market and claiming your space in the floral industry
PR Firm: Mastering your own Public Relations 
Proposal Presentation:  Creating a proposal method that speaks to your ideal client
Selling: Developing skills to sell the designs you are dreaming of 
Networking: Creating a strategy to make the most out of your time and turn social hours into profit generating experiences
Creative Advertising: Understanding the mind of your client and marketing to them in a new way
Goals: More than just setting goal. Developing a projection and accountability to achieve your goals
_________________________________________________________
*ALL payments are non-refundable. However, they are transferable to another attendee for the same event.
This is a VIRTUAL event and no travel or accommodations are required. You will simply need a Wifi signal, a notebook, a pencil and a comfy chair. 
Want to learn even more? Join us for a full day of hands on Floral Design as well. Floral Design workshop is hosted the day prior to the Business Intensive in each state. Learn more at www.intrigueteaches.com
*Only 1 discount code may be used for any class, workshop or product download.
---