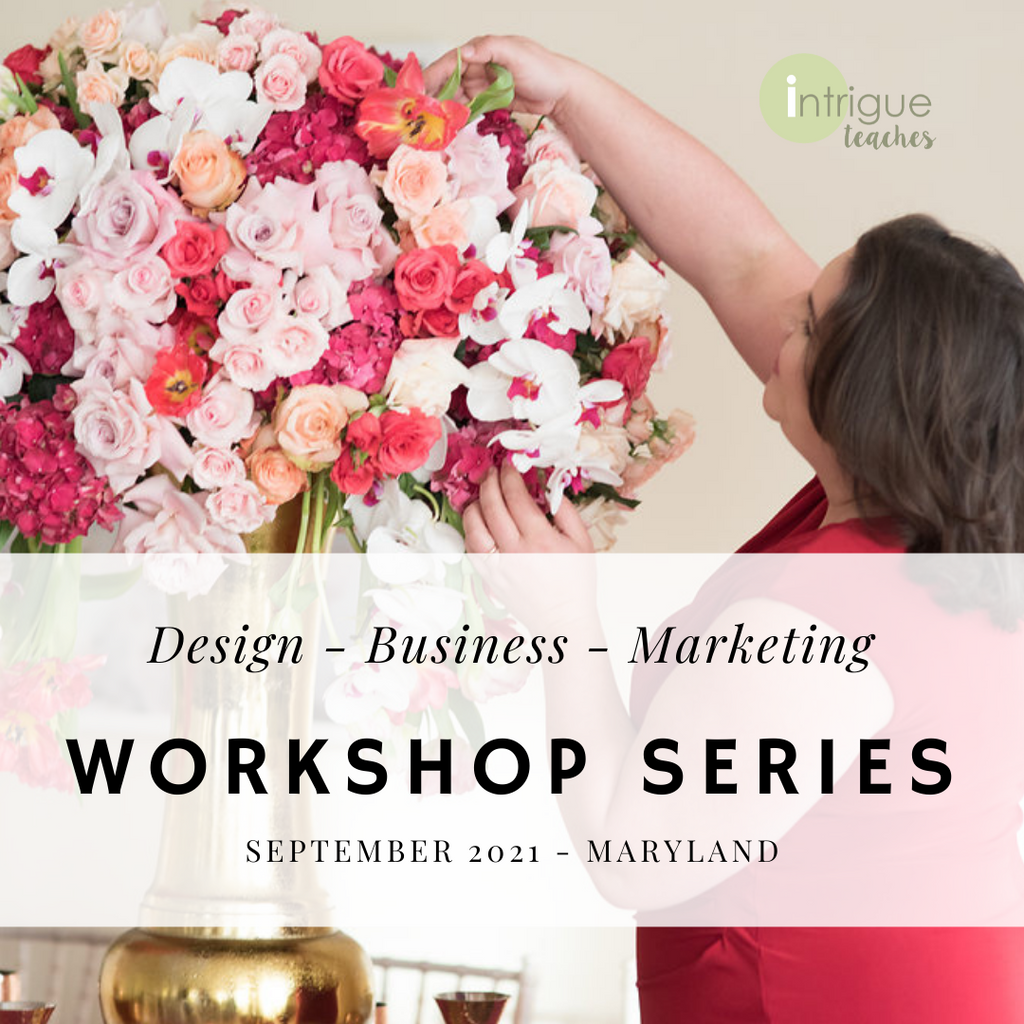 2021 Summer Workshop Series
Are you ready to spend 3 days blossoming with Intrigue? Get ready to deep dive into your floral businesses, immerse yourself in the world of luxury floral design, and be inspired in an environment catered entirely to you. 
This experience is customizable! You can register for each workshop separately, or bundle all three. Each day is carefully cultivated to provide you with everything you need to fully open your mind, absorb the inspiration, and learn with excitement and exude confidence. All you need to do is come prepared to learn, grow, and bloom bigger and brighter than ever before.
Spend 3 days with Intrigue, and leave with the power to transform your floral design business.
Can't make it in person? Join the waiting list for our next Virtual Installation Course. CLICK HERE and select the BIG DREAMS: Virtual Installation Masterclass as your desired course. We'll be in touch!
This event is sponsored by:
DAY 1 (September 13th, 9:00am to 3:00pm)
Hands-On Luxury Wedding Design Workshop - $1997
*This class has the smallest seating capacity and is always the first to SELL OUT (sign up now to reserve your seat)
Spend the day with Sarah Campbell...and over a thousand flowers, during this hands-on floral design workshop! Learn new techniques, create lavish floral designs, and immerse yourself in floral styling in an environment catered to you; full of creative and uplifting energy.
This day one workshop will provide you with everything you need to learn, plant the seeds of inspiration, and blossom with excitement. We'll cover design basics from top to bottom (like recipes and mechanics for a lavish bridal bouquet with a boutonniere to match, over-the-top centerpieces, and a floral installation that will have your flower-loving heart pattering)! 
Once the designs are created, our event photographer will swoop in and capture all the beauty we've brought to life. You will receive full use of this professional gallery for use in your portfolio and marketing. 
SKILL LEVEL: Beginner-Intermediate
*Because of the hands-on nature of this workshop, seats are limited and will sell out. 
Morning Schedule (9:00 am to12:30pm)
‐ Bouquet: Lavish, Elongated "Intrigue-Style Bouquet" Demo
- Centerpieces: Towering Over-the-Top Centerpieces, Loaded with Flowers
Afternoon Schedule (1:00pm to 3:00pm)
‐ Tablescape Design: Dress a Decadent Table with Decadent Details and Styling Treatments to Make Your Designs "POP"
‐ Installation: The Finishing Touch! A Suspended "Up In The Air" Installation Design
DAY 2 (September 14th, 10:00am to 3:30pm)
Making Money for Wedding Florists - $997

If you feel like you should be making more money in your design business, this workshop is for you. I have been quoted as saying: "I love what I do, but I love not being broke even more."
This is the statement that inspired this workshop. Let's take a deep dive into the business behind the blooms! 
You work too hard to not be making a comfortable income. It is possible to pour your whole heart into your wedding design business...and still, make money. Being profitable is what defines the difference between our businesses, and an expensive hobby. 
2020 solidified the importance of proper record keeping, diversified revenue streams, and budgeting in the floral industry. We will dive into the strategies and techniques necessary to set yourself up for financial success within the wedding/flower world during this workshop. Join me and my trusted guest speakers as we focus on flower finances. 
This workshop is not just for beginners. It is ideal for those of you that feel you should be making more money in your design business.
SKILL LEVEL: Beginner - Expert
Morning Schedule (10:00 am to12:30pm)
‐ Revenue Streams: How to Turn Streams of Revenue into Rivers of Profit
‐ Fee Structures: Process Development for Quick and Accurate Estimates
‐ Pricing: Strategies for Guaranteed Profit (Regardless of Flower Market Fluctuations)
Afternoon Schedule (1:00pm to 3:30pm)
‐ Money Talks: Understanding the "Ebb & Flow" of Financial Needs Within the Wedding Industry
‐ Budgeting: Structuring Payment Allocation to Ensure there is Always $$$ in the Bank
‐ Allocating Expenses: Create a Money Strategy to Understand Margins on Each Event
DAY GUEST SPEAKERS 2...
 DAY 3 (September 15th, 10:00am to 3:30pm)
Marketing & Social Strategy with a Wedding Focus - $997


"First you show up, then you blow up."
This quote changed my outlook on marketing and social media strategy, and has led me to success time and time again! Spend this one day with me, and leave with an easy-to-follow plan for marketing your business on Instagram, Facebook, and Tiktok.
Luxurious weddings and oversized floral installations have made me an internationally renowned designer, and it wasn't an accident. I have spent years building strategies that display my work creatively and intriguingly. No one would know the Intrigue name if it wasn't for these marketing and social media techniques.
My marketing strategies have increased the viewership of my business by THOUSANDS (thousand upon thousands). During this workshop, I will walk you through the techniques that pushed my business and brand to "show up" on each platform, and why they work. In addition to learning my techniques, you will be allowed to create your very own strategy right along with me. I'll even pull back the curtain and share everything you need to know about making this work easier, and faster. You will learn the apps that I use to get the job done, and the organizational systems that have allowed me to work social media into my busy wedding design business with ease, and without a full-time marketing team. More marketing = more profits!
This isn't magic! It's hard work and will require dedication to succeed. This class is for flower-focused individuals who are ready to start using what they already have to maximize exposure on social-free platforms. 
SKILL LEVEL: Beginner - Expert
Morning Schedule (10:00 am to12:30pm)
‐ There's an APP for That: Tools to Simplify the Process
‐ Organization: Set Yourself up for Easy Access to Content
- Social Focus: Understanding Your Audience's Social Media Marketing Preferences
Afternoon Schedule (1:00pm to 3:30pm)
‐ Scheduling: Show Up at the Right Times...Without Being Attached to Your Device
‐ Batching: Doing One Week of Work in a Matter of Hours
‐ Trending: How to Make the Most of Trends & What to do When You Go VIRAL
VENUE: Haven Street Ballroom 1 N. Haven Street Baltimore, MD www.havenstballroom.com
*Travel and accommodations are not included. Nearest Airport BWI Baltimore/Washington International. 
*Tickets are non-refundable. Tickets are transferable to another attendee for the same event on the same date.


*Masks required for unvaccinated attendees 
---