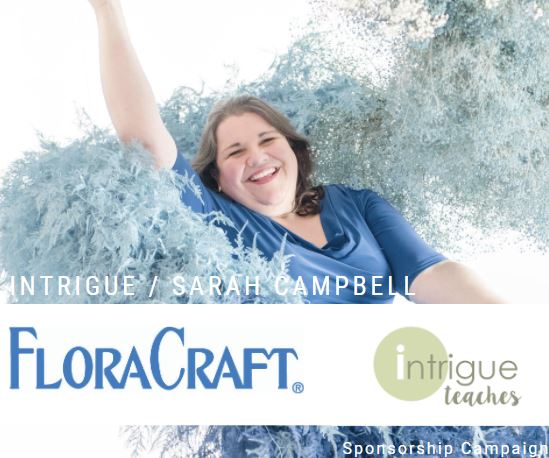 Sponsorship Packages - FloraCraft
The process of highlighting the FloraCraft products will begin with the production of a series of videos focused on the product of your choice. The Intrigue Team will outline each video with talking points (provided by FloraCraft) to be used in subsequent marketing efforts. Professional quality sound and lighting will be paired with more casual video content to give the campaign dimension. FloraCraft will also have access to all content created to use in the promotion of the product being highlighted. In order to make the product stand out we will highlight it in an unconventional way and surprise the audience with the use. This unconventional use leads to conversation about the product which leads to product awareness and this is what leads to sales.
This process works in 3 steps:
Step 1: Content Creation (Most important step. This is where the images and video clips are created.)

Step 2: Content Exposure (This is where we schedule the posts and coordinate platforms to maximize cross exposure. During this step we use the Intrigue platforms to push content out to the floral community and public.)

Step 3: Cross Promotion

(To make the most of Intrigue's efforts FloraCraft is encouraged to mirror the images and video content on available social platforms and as part of the overall marketing strategy. The more cross exposure the more powerful the campaign will be)
*For the best return on investment each product highlighted "Hero Product" should go through the full 3 step process.
FULL DAY FILMING
Each filming day focuses on one "HERO PRODUCT" supported by associated product lines.
Filming includes:
1 Tutorial Video (up to 30 minutes):

$1500 value

1 Quick Tip Video: $800 value

1 Hyper Lapse or Time Lapse: $800 value

1 Endorsement Video: $5,000 value

1-3 Casual Video Clips (under 30 seconds each) $500 value

12+ Professional Photos $900
Total Value: $9,500
CONTENT EXPOSURE
FACEBOOK POST - $900
Set of 2 posts in the closed Intrigue Teaches Wedding Community promoting your product or service to over 8,000 Florists, Designers and Decorators. Posts are spaced 3-10 days apart.
LIVE Design Session - $2,500
15- 40 Minutes - Interview or Presentation Style (featured on 3 platforms - Facebook/Instagram/Tiktok)
NSTAGRAM POSTS - $1500
Series of 3 posts created by Intrigue to showcase your product or service. Posted on the @intrigue_designs account in the voice of Sarah Campbell, broadcast to 160,000+ over the course of a 3-10 day period.
INSTAGRAM STORIES - $1500
Series of 8-12 posts in the @intrigue_designs stories sharing your product/service. All posts are made in the same day to maximize exposure.
TIKTOK - $1500
Series of 2-3 posts on the @intrigue_designs main feed sharing your product/service. All posts are made over a series of 1-4 days apart.
Total Value: $7,900
*By accepting the PARTNER CREDIT you are agreeing that Intrigue and all of its affiliates will have access to the educational content created as part of sponsorship and you are not entitled to profit earned from the sale or promotion of educational content on the Intrigue platforms.
---